How to Look Good at the Beach Without the Perfect Body
Jacky Gale | June 22, 2018 | Posted in
Body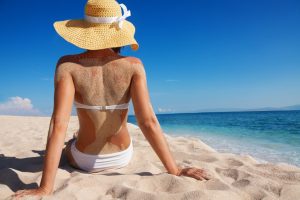 Swimsuits are pretty unforgiving. They're great for showing off a perfect body, but they'll also reveal love handles, a flat butt, and a small cup size. Since beach season is already here, it's too late to schedule plastic surgery for this year's tropical vacation. But there's plenty of time to plan for next year. And in the meantime, use these tips to rock your swimsuit no matter what body type you have.
Pick a swimsuit with a focal point
The key to looking great in a swimsuit is to draw the eye to the areas of the body that you feel most confident about. For example, a swimsuit with a brooch at the cleavage point will naturally draw the eye to this decorative feature—and away from problem areas.
Consider body proportions
Think about your body type before you go shopping for a swimsuit. For example, if you're a pear shape, you carry more weight on the bottom than on top. Look for a suit that will draw the attention upward. Choose a swimsuit with the opposite effect if you want to draw attention away from your top.
Avoid the attached skirt
Swimsuits with attached skirts are an old standby of ladies who want to cover up a bit. But these have the unintended effect of making the wearer look older and bigger than she really is. They also draw attention to the hip and thigh area, which is probably the last thing you want. If you do want to cover up, look for a swim dress. It has an A-line that flares in a flattering way, and yes, it looks just like a dress that's intended for swimming.
Look for a shapewear swimsuit
Shapewear isn't just for formal occasions. Many designers are building shapewear fabrics into swimsuits. These can take up to an inch off your appearance. It's worth it to shell out a little extra money for a shapewear swimsuit with special construction, boning, and padding that will make you look fabulous.
Avoid certain styles
No matter how amazing that zebra stripe swimsuit looks on the rack, it'll accentuate every unflattering bulge when it's on your body. A solid color works well for most women. But if you do pick a patterned suit, avoid stripes at all costs. Avoid cutouts, suits without built-in bra support, and metallic swimsuits as well.
Start planning for next year's beach vacation!
If you're having trouble feeling self-confident in a swimsuit, you might want to think about having a cosmetic procedure to get yourself ready for next year's vacation. Some areas of the body are stubborn no matter how much you exercise you do or how dedicated you are to your diet. Liposuction can be a great option for people who are within their target weight range, but have stubborn bulges of fat.
Another possibility is cryolipolysis, which is nonsurgical. Or, consider surgical options like a Brazilian butt lift, breast augmentation, or tummy tuck. All of these surgical and non-invasive procedures, plus many more, are available from renowned plastic surgeon Dr. Thomas Loeb in Manhattan, NYC. Call his Fifth Avenue office at 212-327-3700 to request a confidential consultation today.
Additional resources for planning plastic surgeries:
American Society of Plastic Surgeons, Nonsurgical Fat Reduction, https://www.plasticsurgery.org/cosmetic-procedures/nonsurgical-fat-reduction/cryolipolysis
American Society of Plastic Surgeons, Buttock Enhancement, https://www.plasticsurgery.org/cosmetic-procedures/buttock-enhancement