Plastic Surgeons Call 2015 "The Year of the Rear"
Ava Lawson | July 13, 2016 | Posted in
Body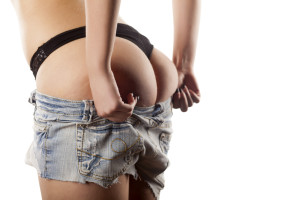 According to the American Society of Plastic Surgeons, buttock augmentation was performed every 30 minutes for every day in 2015, making it one of the hottest trends in plastic surgery. Buttock implants and Brazilian butt lifts are the fastest growing types of body contouring procedures in the U.S., and this surge in backside enhancements has prompted surgeons to label 2015 as "The Year of the Rear." 
Although squats and other gluteal exercises can help tone and lift buttock muscles, some people are just genetically predisposed to a flat rear. Celebrities like Jennifer Lopez and Kim Kardashian, known for their voluptuous curvy bottoms, have undoubtedly made bigger booties more desirable. Today there are several ways that women (and men) can get bigger, rounder butts with a little surgical help.
How do we define the perfect butt?
Everyone has different opinions regarding the ideal size, shape and projection of the perfect backside. Most people want buns that are rounder, bigger and not too saggy, as evidenced by a recent survey entitled "Redefining the Ideal Buttocks: A Population Analysis." Published in the Plastic and Reconstructive Surgery Journal, the survey, which included over a 1,000 people, found a skyrocketing interest in bigger butts that are perky, tight and proportionate to the rest of the body. Most of the respondents, when presented with pictures of different sized butts, liked the images which reflected a rounder backside with a prominent hour-glass figure. The survey revealed that men and women preferred bottoms that were not flat, nor too wide, but still had a feminine shape that accentuated the hips.
Butt enhancement surgery
Buttock augmentation, which can be achieved through a lift, fat transfer, fat grafting or implants, is designed to:
Increase the roundness and size of the buttocks
Lift the buttocks
Improve projection
Boost self-confidence
Butt augmentation can help people who have backsides that are flat, saggy, asymmetrical or extremely small. The Brazilian butt lift is among the most popular ways to increase volume and fullness, and is achieved by injecting the patient's own fat cells into targeted areas. The fat is first removed through liposuction then re-injected in key areas. A buttock lift with fat transfer is generally considered safer than butt implants as complication rates are lower.
Brazilian butt lifts can be performed using twilight sedation or general anesthesia, and is an outpatient procedure. As with any type of surgery, there are risks of bleeding, infection and adverse reaction to anesthesia. Patients are typically back at work within 7 days and will be fully recovered after 4-6 weeks.
Choosing a surgeon you can trust
Making a decision to have butt augmentation entails many choices, perhaps none more important than selecting your plastic surgeon. As a skilled, board-certified NYC plastic surgeon with 25 years of experience in body contouring procedures, Dr. Thomas W. Loeb has performed hundreds of buttock augmentations during his career. Dr. Loeb utilizes the latest methods and correct procedures to achieve a natural, uniform appearance that is body proportionate.
To learn more about Brazilian butt lift surgery or to request a one-on-one appointment with Dr. Loeb, please call 212-327-3700.