Women Turn to Plastic Surgery Inspired by Michelle Obama's Toned Arms
Jacky Gale | July 7, 2016 | Posted in
Body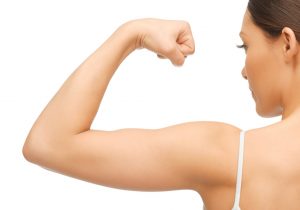 Back in 2013, the American Society of Plastic Surgeons (ASPS) reported that brachioplasty, which is an upper arm lift, had increased in popularity dramatically.
In 2012, over 15,000 patients, 98 percent of whom were female, underwent upper arm procedures. This represented a 4,000 percent increase since 2000, during which a mere 338 patients underwent upper arm procedures. This trend was attributed to the enviably sculpted and toned upper arms of the First Lady.
Latest plastic surgery statistics report
According to the latest statistics, the upper arm trend shows no signs of dying down. The ASPS released its latest report in June 2016, which shows that 17,099 patients underwent upper arm lifts in 2015. The ASPS did not note a specific reason for the trend and of course every plastic surgery patient has his or her own private reasons for undergoing surgical self-improvement, but it is thought that celebrities with highly toned arms have been one motivating factor. Specifically, female patients want to have the famously sculpted arms of Michelle Obama, Jennifer Aniston, Kelly Ripa, and Demi Moore.
Other plastic surgery procedures that have remained popular over the years include breast augmentation, face lifts, liposuction, and tummy tucks.
What an arm lift can do
An arm lift or brachioplasty involves removing excess fat and skin from the upper arms. This tightens the skin and creates pleasing, youthful contours that are proportionate to one's body. Brachioplasty procedures may be ideal for patients who are embarrassed about having "bat wings," which refers to the appearance of drooping folds of skin hanging down from the arms.
Sometimes no amount of exercising or dieting will correct the appearance of excess fat on the upper arms. Similarly, it's virtually impossible to correct excess folds of skin without surgical intervention. Because of this, surgery is often an appropriate course of action.
Depending on the patient's current physique and goals for his or her appearance, the surgeon might recommend upper arm liposuction alone. Other patients can benefit from upper arm liposuction combined with the removal of excess skin.
Body contouring in NYC
If you're dissatisfied with your upper arms or another part of your body, consider scheduling a one-on-one consultation with Dr. Thomas Loeb, a world-renowned NYC plastic surgeon.  Dr. Loeb is famed for his artistic results and patient-centered service.
For more information about body contouring procedures, we invite you to call Dr. Loeb's Manhattan office at 212-327-3700.