FDA Approves New Breast Implant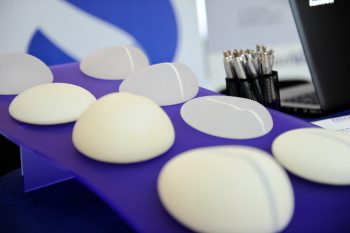 Women aged 22 and older have a new option for enhancing their bust size and confidence with breast augmentation. Last week, the FDA approved a new low profile breast implant from medical aesthetics company Sientra. The company's Low Plus Profile Projection implant will be introduced to the market in late July of 2022.
This is welcome news given that breast augmentation procedures are among the most popular cosmetic surgeries in the United States. The American Society for Aesthetic Plastic Surgery reports that breast enhancement and revision surgeries increased 41 percent from 2020 to 2021. Last year, some 500,000 patients got breast implants for either reconstruction or augmentation purposes.
Sientra Low Plus profile projection implant
The newly approved Sientra breast implant is designed to provide moderate upper pole fullness along with a natural appearance that many women desire. The Low Plus Profile projection is an excellent compromise between the low and moderate profile breast implants that are already available.
Sientra is currently the only breast implant manufacturer in the country that makes smaller 80cc and 110cs gel-based implants.
More options for breast augmentation
Today's breast augmentation patient has more options when it comes to volume, projection, material, and aesthetic outcome. Traditional low profile implants are often suited for patients with broad shoulders and wider chests. These implants have minimal projection and are typically flatter but promise better cleavage compared to high profile implants.
By contrast, high profile breast implants are taller and give the greatest amount of projection. These are often recommended for women who desire a bustier profile. The results can look less natural, but this all depends on the chest width and individual body characteristics. Women who have smaller body frames and narrow rib cages can still achieve a natural yet busty look with high profile implants.
Differences in implant profile can make substantial differences when it comes to final outcomes. Sientra's new Low Plus Profile Projection gives patients a middle ground between low and moderate profile implants.
Low profile, moderate projection implants are definitely having a moment in the U.S. They provide the subtle enhancements that increasing numbers of women desire.
Breast augmentation in Manhattan
If you are interested in breast augmentation, it's important to make an informed decision regarding which implant type will provide the desired outcome given your anatomy. Whether you're after a dramatic transformation or a natural-looking change, Dr. Thomas Loeb can help you achieve your goals with a thorough, customized approach.
During a private consultation, Dr. Loeb will offer his expert recommendations on breast implant type, size, and placement given your preferences and anatomy. Call or email our office to schedule your appointment with a leading NYC plastic surgeon today.