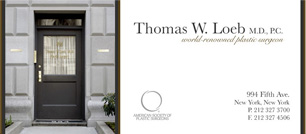 Dr. Loeb sees most patients in his Fifth Avenue office, located at 81st Street across the street from the Metropolitan Museum of Art. Once weekly he sees patients in his Great Neck, Long Island office.
We are open Monday through Friday from 9:00 am to 5:00 pm. When you are ready to schedule an appointment you may reach us at either of the following locations:
Manhattan
994 Fifth Avenue
New York, NY 10028
212-327-3700
Click for directions
Great Neck
1000 Northern Blvd, Suite 340
Great Neck, NY 11021
516-487-3134
Click for directions
You may also complete our online contact form for more information about our office, or to request an appointment. We will quickly respond to your questions and send you an appointment confirmation by email.