Bad Nose Job? Here's How Long to Wait for Your Revision Rhinoplasty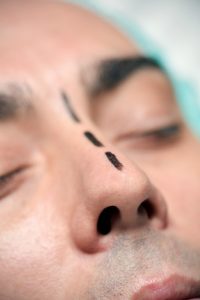 Many people are unhappy with the appearance of their nose, and some of them decide to undergo rhinoplasty to get the look they want. Rhinoplasty is a particularly delicate sort of plastic surgery, since the nose performs a vital functional role in the body, as well as an aesthetic one. In addition to the considerable technical skill a rhinoplasty requires, the surgeon must have an intuitive sense of artistry and aesthetics in order to achieve the desired results.
Unfortunately, it's not uncommon for patients to be dissatisfied with the results of their rhinoplasty. If your nose job didn't work out, you can talk to a plastic surgeon about having a revision rhinoplasty. One of the key factors in determining whether this surgery is right for you is the amount of time that has passed since your original surgery.
Minimum time to wait before revision rhinoplasty
During your initial recovery period from your original rhinoplasty, your nose will have quite a bit of swelling. It's normal for it to look aesthetically unappealing. Once the swelling goes down and the nose fully heals, it should look much better.
If you're still unhappy with your nose, you can consult a plastic surgeon at any time. However, your surgeon will almost certainly advise you to wait until at least six months since the original surgery. Even after your nose seems to be completely healed, it may gradually change or "settle." It's important to wait until this process is finished.
Know that some plastic surgeons prefer that their patients wait even longer, such as nine months to a year. This depends on exactly what was changed during the original surgery, as some areas of the nose can heal and "settle" at different rates than others. If you had the bridge of your nose altered, this will generally resolve faster than the tip of your nose.
What to consider when scheduling a revision rhinoplasty
Just like your original rhinoplasty, a revision rhinoplasty will require a little preparation. Schedule the procedure for a time when you can take enough time off from work to heal. Consider whether there are any important events on your calendar, such as a wedding to attend or a family reunion. You may want to schedule your revision surgery after these events, or to schedule the surgery far enough ahead to allow your nose to fully heal.
Finding a world-class revision rhinoplasty surgeon
All rhinoplasties are complex surgeries, and revision rhinoplasties can be even more complicated. It's crucial to choose a plastic surgeon who has the right credentials, experience, and track record of success with revision rhinoplasties. That's why so many patients have chosen to visit Dr. Thomas Loeb's office in NYC for revision rhinoplasty.
About 30% of Dr. Loeb's rhinoplasties are revision nose jobs. Dr. Loeb first earned a reputation for rhinoplasty excellence when he performed a successful nose job on celebrity Paula Jones in 1998. Since then, he's had patients travel to his Manhattan office from around the world, seeking his expertise and artistry. You can request a one-on-one consultation with Dr. Loeb by calling 212.327.3700.
More information on how long to wait before a revision nose job:
American Society of Plastic Surgeons, Rhinoplasty, https://www.plasticsurgery.org/cosmetic-procedures/rhinoplasty
Mayo Clinic, Rhinoplasty, http://www.mayoclinic.org/tests-procedures/rhinoplasty/home/ovc-20179200