Achieve Perfection With a Revision Rhinoplasty in NYC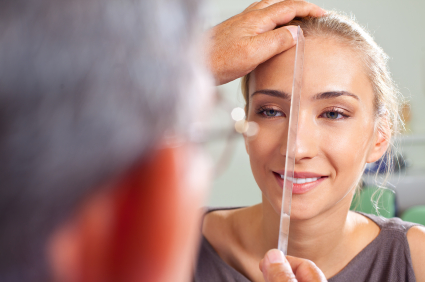 There are very few plastic surgeons in the United States with the precision and accuracy of Dr. Thomas W. Loeb. As such, it is not uncommon for patients having visited a less experienced physician to seek the services of Dr. Loeb for a revision rhinoplasty in NYC – a procedure for which he is nationally recognized.
Once the original rhinoplasty is fully healed, Dr. Loeb can help transform the less-than-perfect nose job into a true work of art – focusing on the delicate and integral contouring of the nose tip. If you are unhappy with your recent rhinoplasty and would like to explore your options for revision, please contact our Manhattan-based office right away.
Second time's a charm
Rhinoplasty revision surgery is much more common that patients initially imagine – comprising almost 50 percent of Dr. Loeb's Manhattan plastic surgery practice. Patients from across the nation are able to arrange consultations with Dr. Loeb through the use of FaceTime or Skype, alleviating the need for multiple trips to New York City for cosmetic consultations. For his unparalleled skill in performing rhinoplasty revision, Dr. Loeb is an experienced plastic surgeon who has garnered national attention and professional recognition across the cosmetic surgery board.
With a revision nose tip surgery, recovery time can take a little as five days – with many patients reporting near-immediate satisfaction with the results of the procedure. Ten days after the surgery, patients will notice a significant reduction in swelling and bruising, with full healing taking place by the second week post-operative. By three months, the vast majority of Dr. Loeb's patients feel almost completely healed – reporting beautiful results in a boost in self-confidence.
Revision rhinoplasty NYC
Revising a nose job entails a two-hour procedure and the introduction of light general anesthesia. Dr. Loeb describes his process as a "closed technique which preserves blood supply to the tip and allows faster healing, less swelling and of course avoids the scar under the tip." Patients are able to recover for several hours on-site before returning home the same day.
During the procedure, Dr. Loeb can help eliminate some of the more common signs of an inferior nose surgery, including:
Too narrow
Collapsed appearance
Deep notches on either side of the nostril
Pinched or notched appearance in the nasal tip
Disproportionality
Crooked appearance
What's more, Dr. Loeb and his exceptional staff can help walk you through the process of consulting with the doctor, setting up your operation appointment, and recovering as quickly as possible. Dr. Loeb works with an exceptional group of anesthesiologists, nurses and an office manager, creating the feel of a family-oriented environment.
Revision nose job in Manhattan
If you are concerned about the look of your recent rhinoplasty – and have given it ample time to heal and set – we encourage you to reach out to Dr. Thomas W. Loeb today. Whether you are a Manhattan resident or are considering traveling to New York City for your cosmetic procedure, our office is equipped to meet all of your needs. To schedule your first consultation, please call 212-327-3700 today.