Natural Rhinoplasty: A Nose that Truly Fits Your Face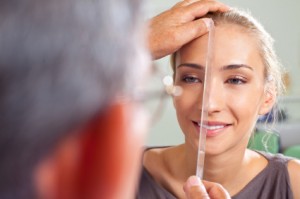 Rhinoplastik is a German word that means to change the shape of the nose. For years, conventional standards of beauty considered the ideal nose to be narrow and gracefully sloped, with a perky, slightly upturned tip. Thankfully, modern generations have moved beyond the cookie cutter look, and recognized that there's no single standard of beauty for noses or any other body part.
Plastic surgeons are seeing a decline in the number of patients who visit their offices with pictures of celebrity noses in hand.
Instead, more people are asking for natural-looking rhinoplasty results that flatter the face, while still remaining in harmony with the overall proportions.
Why choose a natural rhinoplasty?
Plastic surgery is unique among the medical specialties because it requires both artistry and technical skill, and no two rhinoplasties have exactly the same goals. You and your friend could go to the same plastic surgeon for a rhinoplasty, and each of you should end up with different results because each of the faces is unique. A very narrow nose might look fantastic on a person with a narrow face and a dainty chin, but it will look completely out of sync on a person with a broad forehead and strong chin.
In-depth facial analysis
The trick to achieving the right nose for your face is to ensure it is balanced and in proportion with the rest of your features. To fully understand the modifications that would look best on your face, your plastic surgeon should do an in-depth facial analysis. This may include a full examination of the external components of the nose, including the nasal alae, dorsum, sidewalls, tip, and soft triangles. It should also include an exam of the interior components, including the turbinates, septum, mucosa, and nasal valves.
Then, your plastic surgeon will consider your nose's physical characteristics, such as the sebaceous glands, cartilage strength, skin type, and skin thickness. Lastly, to ensure natural-looking results, your surgeon will evaluate the rest of your facial features, including your chin, mouth, eyes, forehead, and cheekbones.
This comprehensive analysis, along with a discussion of your goals and expectations for the outcome, will inform the treatment planning process.
How to achieve a beautiful, natural nose
Choosing the right plastic surgeon is the most important step toward achieving a natural look. Look for a board-certified plastic surgeon who has a long track record of satisfied patients. Rhinoplasties are among the most complex plastic surgeries, and among the most difficult to achieve artistic results, so do your research carefully before you select a surgeon.
Premier rhinoplasty NYC surgeon in Manhattan
Your journey toward a new nose starts with a visit to board-certified plastic surgeon NYC, Dr. Thomas Loeb. Dr. Loeb has a long list of satisfied patients, and would be happy to show you rhinoplasty before and after pictures that exemplify his work.
Patients from around the country choose Dr. Loeb for their natural rhinoplasty because of his impeccable credentials, unparalleled sense of artistry, and exceptional results.
Read more on rhinoplasty surgery:
American Society of Plastic Surgeons, Rhinoplasty, https://www.plasticsurgery.org/cosmetic-procedures/rhinoplasty
American Academy of Facial Plastic and Reconstructive Surgery, Nasal Surgery, https://www.aafprs.org/patient/procedures/rhinoplasty.html