Breast Augmentation Sizes: How Big Is Too Big?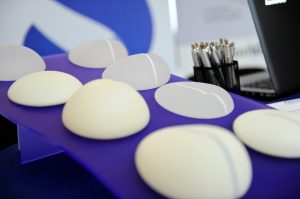 What do Victoria Beckham, Pamela Anderson and Kris Jenner all have in common besides celebrity status? They all chose to downsize their breast implants, citing both comfort and aesthetics. In 2011, Beckham notoriously said adios to her self-described "torpedo bazookas," choosing a smaller implant to complement her petite frame.
When it comes to bust size, bigger isn't always better. While many small-chested women want to boost their cup size (and self-esteem in the process), it is entirely possible to go too big when it comes to implants. A chest that is too large will not only look unnatural on a smaller person, they can cause shoulder, neck and back pain, and droop pendulously over time.
If you're considering breast augmentation in NYC, the following will factor in to choosing the best implant size.
#1 Amount of breast tissue
Women who have smaller breasts (A or small B cup) may not have sufficient breast tissue to cover larger implants. That means implants bigger than 400 cc may actually show through the skin and look very peculiar.
#2 Body Proportions
Anatomy plays a very important role in choosing the right implant size. Taller women with broad chests and wider hips can typically get away with bigger implants, since the projection will balance out their frame and curves. Women who have a petite build and narrow chests would fare better with smaller implants. Going any larger than a full C cup can have a number of unpleasant effects on a petite woman, including neck strain and an awkward "top-heavy" appearance.
#3 Your Lifestyle
Women who are physically active, enjoy high-impact workouts, or participate in sports that require a supportive bra should definitely discuss appropriate implant size with their plastic surgeon. Imagine running a long-distance marathon with DD breasts. You want to feel voluptuous, but also comfortable doing the activities that you love most.
#4 Physical effects and risks
Most women say the main reason for getting breast augmentation is to look sexier in their clothes. While oversize breasts will definitely fill out a bra, larger implants are linked with a higher risk of complications. And as mentioned before, getting implants that are disproportionate with your frame can:
Hamper physical activities
Affect posture
Cause chronic neck and shoulder pain.
Over the past decade or so, there has been a notable shift from jumbo implants toward a more natural looking enhancement – one that doesn't scream you've just had major work done.
Breast augmentation surgery in NYC
Dr. Thomas Loeb is a board-certified plastic surgeon in New York City, renowned for his natural breast augmentation results. During a breast enhancement consult, patients can "try on" various implant sizes with virtual imaging equipment and place implant sizers in a sports bra to see and feel how a 200cc implant measures up with one that is 450 cc. Dr. Loeb takes your aesthetic preferences into consideration when suggesting a size that will best fit your goals and body proportions.
To schedule a private consult with Dr. Loeb at his Fifth Avenue office, please call 212-327-3700.
Additional Resources on Choosing Breast Implant Sizes:
Allure, When Are Breast Implants Too Big? https://www.allure.com/story/when-are-breast-implants-too-big
American Society of Plastic Surgeons, Breast Augmentation https://www.plasticsurgery.org/cosmetic-procedures/breast-augmentation
Zwivel, Zwivel's Complete Guide To Breast Implant Sizing https://www.zwivel.com/blog/breast-implant-sizing-guide/