Why Nose Jobs Fail and What You Can Do About It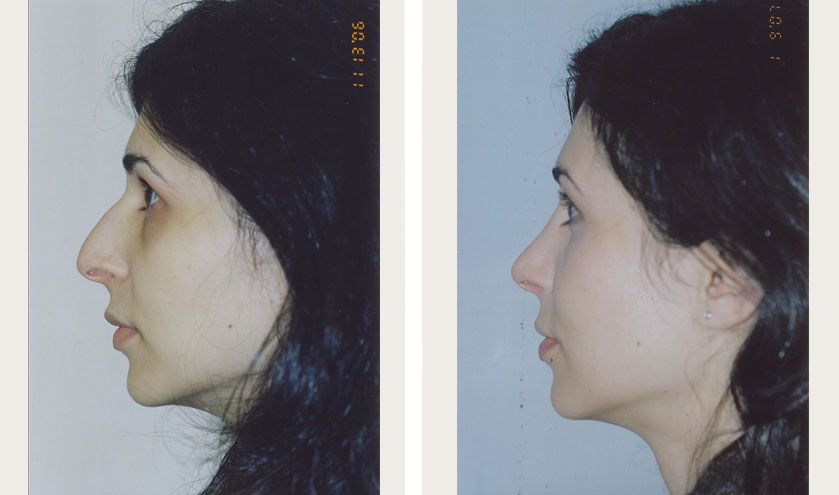 Nose jobs are phenomenally popular in the U.S., but do the amazing results we routinely witness make us take these complex surgeries for granted? Most plastic surgeons consider nose enhancement to have the highest degree of difficulty of all facial cosmetic procedures, and the recent rise in "revision" rhinoplasty–a second surgery to fix nose jobs that were botched the first time around–confirms the fact that patients should always go the extra mile in choosing a specialist with sufficient experience, training and artistry.
In many cases, a revision rhinoplasty is a touch-up procedure in which the surgeon makes a small tweak to an otherwise successful initial surgery– for instance, fixing an under-rotated (i.e. drooping) nose tip. In more unfortunate cases, however, the problems can be more severe, including conspicuous deformities, asymmetries and breathing problems.
Founder of the UCLA Facial Aesthetic Center, leading Los Angeles cosmetic surgeon Dr. Jeffrey Rawnsley reveals that, "Regrettably, revision rates are very high when rhinoplasty is performed by less experienced surgeons." Renowned Beverly Hills plastic surgeon Dr. Andrew Frankel echoes these concerns, reporting that many patients come to him after "several unsuccessful nasal surgeries, even as many as six or seven prior procedures." So why do nose jobs fail? There are risks with any surgery, cosmetic or otherwise, and even the most accomplished surgeon can produce a less than optimal result. In many cases however, the culprit is inadequate surgical skill.
Top reasons nose jobs fail
Nose jobs fail for a number of reasons.
Some of the most common reasons include:
Poor pre-operation planning
Lack of precision in placing incisions
Excessive extraction of cartilage and bone from the bridge of the nose
Damage to nasal tip cartilage
Excessive extraction of septal cartilage (the septum is the wall of skin dividing the nostrils)
Unnecessary or poor use of skin grafts
Failed nose surgery can be an emotional blow for patients, sinking their self-esteem. "A failed rhinoplasty can be one of the most devastating experiences a patient undergoing plastic surgery can have," says Dr. Andres Bustillo, an internationally recognized expert in face and neck surgery based in Miami. "The patient can become extremely disappointed. Self esteem and confidence may decrease and affect the person's social activities."
Corrective nose surgeries pose increased challenges
Corrective rhinoplasty is far more challenging than the initial procedure. "Revision rhinoplasty is even more difficult because you have to deal with a lot of issues that you don't have to deal with when working with fresh tissue," says Dr. Rawnsley. "You have scar tissue to deal with, you have deformities. Experience is invaluable for fixing these kinds of problems." Considered one of the country's top revision rhinoplasty specialists, Dallas plastic surgeon Dr. Jack P. Gunter formerly of Gunter Center Aesthetics & Cosmetic Surgery elaborated on the increased difficulties posed by a second surgery: "When we go into secondary rhinoplasty we start having to take cartilage from other parts of the body because the cartilage inside the nose has been operated on, so we know that some of it is distorted. Sometimes we have to build a complete new framework under the skin." Colleague and rhinoplasty expert Dr. C. Spencer Cochran adds that though revision surgery poses additional challenges, the recovery "usually takes no longer than the healing time for the first rhinoplasty."
Hope for the victims of botched nose surgery
Despite the challenges that plastic surgeons confront when attempting to reconstruct a damaged nose, great results are still possible. New York City rhinoplasty expert Dr. Thomas Loeb cautions patients, however, to have realistic expectations. "Patients come to me with noses that are misshapen, with a hump, or very noticeable irregularities. Everyone who sees them can tell they've had surgery, and bad surgery at that. The goal is always to achieve an ideal result, but in these cases simply erasing the malformations and making the patient look normal again is a hugely satisfying outcome." Click to view before and after revision rhinoplasty photos performed by Dr. Loeb. It's understandable that patients who have had a bad surgical experience the first time around will be especially careful about choosing a corrective surgeon. Dr. Bustillo assures patients that "the reality is that there is no best revision rhinoplasty surgeon … I think that a patient should consult with a board certified facial plastic surgeon that has vast experience performing revision rhinoplasty, has an aesthetic that the patient likes, and that there is chemistry between the patient and surgeon."
Getting a satisfying result from your rhinoplasty
With over 221,000 nose reshaping surgeries performed in the U.S. in 2013 alone–second only to breast augmentations–interest in nasal improvement, whether for aesthetic or respiratory reasons, continues to be strong across the country. "Most of my rhinoplasty patients don't come to me looking for the perfect nose, but simply the nose that suits them best, the one they feel they were meant to have," explains Dr. Loeb. "That's why it's particularly difficult for a patient to deal with a failed nose operation–to them, it feels like an injustice. For that reason, there's nothing more satisfying than restoring a surgery-damaged nose to its proper role in the overall aesthetic harmony of the face. Patients tell me they finally look like they are supposed to. That's satisfying for us both."