3 Plastic Surgery Procedures No One Will Know You Had Done
Ryan Green | December 27, 2017 | Posted in
Skin Care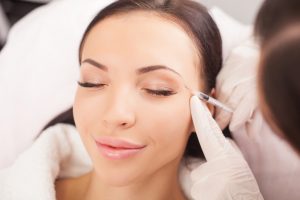 Despite all the recent advances, for some people, the words "plastic surgery" will always conjure up images of a person wrapped up like a mummy, cloistered away for weeks in an anonymous clinic and taking their food through a straw.
Not so anymore. Today, there are numerous cosmetic procedures that are performed daily at offices all over the world with little to no downtime or side effects. That means no time off from work for recovery, or foregoing events or outside commitments until you look presentable.
These non-invasive procedures can literally change your look overnight, and no one — not even your significant other — will be the wiser.
We've broken it down into what we consider the top three of these non-invasive procedures, all of which are available at Dr. Thomas Loeb's Manhattan office.
1. Photofacials
Using advanced laser resurfacing or intense pulsed light (IPL) to quickly restore a youthful glow to the skin, photofacials are extremely effective at banishing fine lines and wrinkles, age spots, unsightly veins, and uneven skin tone resulting from overexposure to the sun or the natural aging process.
Top New York City plastic surgeon Dr. Loeb will perform IPL photofacials at his office on Manhattan's Upper East Side using either CO2 ablative lasers or non-ablative fractional lasers.
He will evaluate which skin treatment technique will achieve the optimum results for your complexion, restoring natural luminosity to your face and turning back the clock.
If you have non-ablative Fraxel photofacial resurfacing, you will likely be able to return to work within 1-3 days after the procedure. You may experience some redness and swelling. Recovery from ablative CO2 laser skin resurfacing usually lasts between 4-7 days (so plan on a long weekend off)!
2. Laser Skin Resurfacing
Dr. Loeb also provides Ultherapy and Fractora to minimize the appearance of fine lines and pigment changes caused by aging, rosacea (ruddiness), or UV damage. These treatments work both at and below the dermis' surface, stimulating your body's natural production of collagen for a smoother, more youthful complexion. You will be able to resume your normal activities immediately following the procedures.
Laser resurfacing and dermabrasion techniques work a little deeper, removing the outer layer of skin cells to reveal smoother, younger-looking skin below. Laser resurfacing primarily works on fine lines and shallow scarring, while dermabrasion can eliminate the appearance of deeper wrinkles, discoloration and age spots. Patients who undergo dermabrasion can expect some minor burning and itching as the skin heals.
3. Injectable Fillers
Specifically designed to minimize the appearance of fine lines and wrinkles, injectable fillers are among the most popular skin rejuvenation treatments today. These procedures include Botox and dermal fillers, which may take just a few minutes to complete, leading to their reputation as "lunchtime procedures." Injectables are administered with a mild topical anesthetic, so most patients are able to return to their normal activities immediately afterward.
Hyaluronic acid-based dermal fillers ("wrinkle fillers"), like Restylane and Juvederm, work safely to smooth skin from the inside out. Other injectables like Sculptra (poly-L-lactic acid) and Radiesse promise even longer-lasting results.
Botox works by relaxing the muscles of the face that lead to the appearance of fine lines and wrinkles. While the most common areas injected include the lines between the brows and crow's feet, other areas include the forehead, tip of the nose, corners of the mouth, chin, and jaw.
If you are interested in one of these skin rejuvenation techniques and would like to schedule a private consultation with Dr. Loeb in his New York City office, we invite you to contact us for an appointment.
More information on cosmetic procedures no one will know you had done:
Web MD, "Cosmetic Surgery Options," https://www.webmd.com/beauty/cosmetic-procedures-cosmetic-surgery-options-basics#1
AARP, "Look Younger with Non-Invasive Cosmetic Procedures," https://www.aarp.org/health/conditions-treatments/info-2014/look-younger-non-invasive-procedures.html