Botox for Christmas: Yes, Please!
Loeb Staff | December 15, 2022 | Posted in
Skin Care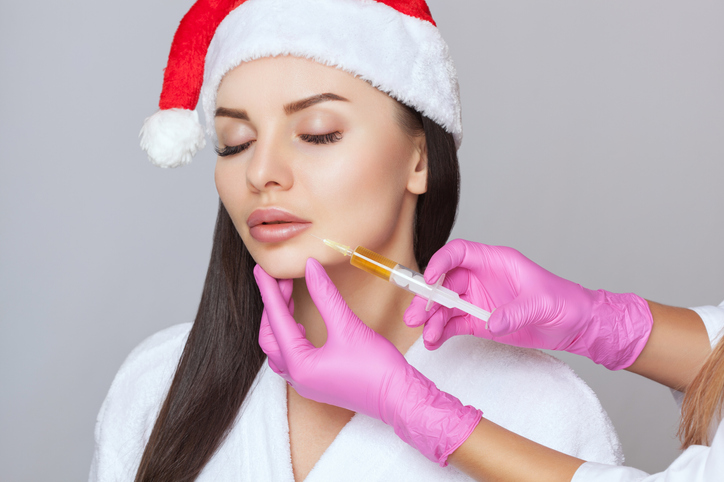 The shops are filled with all sorts of gift ideas for women and men. But what if the perfect gift can't be bought in a store? What if you could give that special someone the gift of self-confidence that comes from a youthful appearance, all achievable with just one simple appointment? Giving the gift of botox for Christmas just might be the right choice for a thoughtful gift that the recipient will love for many months to come. Plus, it's ideal for both women and men!
Would your gift of giving botox for Christmas be well-received?
Botox is a wonderful gift for many people. However, it's best given to those with whom you have a good relationship and who would be delighted to receive it. If your loved one has previously mentioned that they're thinking of getting Botox, then that's a clear sign your gift would be well-received. However, they might not have mentioned Botox specifically, but rather have expressed general displeasure at the appearance of wrinkles—another indicator that they would be ecstatic to get Botox this holiday season.
Why is Botox a great gift for both men and women?
Cosmetic enhancements have long been enjoyed primarily by women. However, men are increasingly turning to cosmetic treatments such as Botox to rejuvenate their appearance. Men who are beginning to develop wrinkles may sometimes worry that looking older might affect their career trajectory. Signs of growing older can also affect a man's confidence, just as it does a woman's. Botox can be a great holiday gift for either a man or a woman.
What age range is best for Botox?
You can give Botox as a gift to an adult of just about any age range. Botox is most commonly used by people who are in their 40s or 50s, or older. However, it can also make a great gift for people who are younger. Botox is often used as a preventive treatment to delay the formation of wrinkles. So, even if your special someone isn't showing significant signs of aging just yet, Botox can still make a great gift.
Does it matter who the provider is?
Once you've decided to give Botox as a gift to that special someone, it's important to choose the right provider. Botox has an excellent safety profile and it's commonly administered, but that doesn't mean there isn't the potential for harmful effects. It's essential to select an experienced, highly credentialed provider who knows how to precisely inject the substance in exactly the right places and correct amounts. Look for a board-certified plastic surgeon who offers Botox.
Shop for Botox for Christmas today in NYC
With his impeccable clinical credentials and long track record of satisfied patients, Dr. Thomas Loeb is the plastic surgeon of choice for Botox in New York City. Dr. Loeb's patients often choose him because of his board certification and emphasis on patient health and safety.
We invite you to contact our office to arrange for a gift of Botox this holiday season for your special someone. During their consultation, Dr. Loeb will first determine whether they are a good candidate for Botox. If not, your payment can be contributed toward a more appropriate treatment, such as a dermal filler. Contact our office in Manhattan today!