Life-changing Effects of Breast Reduction Surgery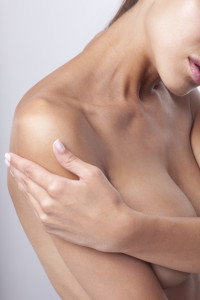 Modern Family actress Ariel Winter says she isn't embarrassed by the scars left from her breast reduction surgery – an operation that took the young starlet from a 32F to a 34D. Winter, who suffered the physical and emotional challenges of disproportionately large breasts as a growing teen, claims that she is finally comfortable in her own skin, thanks to a reduction mammoplasty. At this year's SAG Awards, Winter stunned crowds in a strapless black gown that offered a partial view of her surgical scars.
"Being a 5-ft.-tall girl and having extremely large breasts is really ostracizing and excruciatingly painful," Winter explained to People magazine last year – shortly after her operation. She added, "There's a confidence you find when you finally feel right in your body."
Winter's life-affirming experience with breast reduction surgery is shared by many other women, including writer Jade Sheldon who recently penned a piece in Elite Daily about how breast reduction in her 20's was one of her smartest life decisions.
Physical and mental toll of large breasts
Despite her petite frame, Sheldon says she always pined for a buxom chest as a young girl, never realizing she'd get more than she bargained for by the time she was starting high school. By the time she was 16, her cup size had swelled to DDD – making gym class and athletics awkward and painful.  On top of that, adolescent boys started calling her "bimbo," sparking the natural blond to die her locks a deep black.
Throughout high school, her breasts continued to grow larger, reaching an astonishing FFF cup size. Even wearing three sports bras, she was unable to workout or enjoy regular activities without discomfort or anxiety.
Sheldon says her parents, who were cognizant of their daughter's increasing unhappiness, finally broached the topic of breast reduction surgery, which had helped both her mother and grandmother overcome their own struggles years before.
After finding a qualified plastic surgeon that she was comfortable with, Sheldon's breasts were reduced from a FFF to a more modest D, with a lift.
"Breast reduction surgery changed my life"
Sheldon had the operation over Spring Break of her sophomore year in college and is forever grateful to her friends and family for encouraging her to do it. After healing from the operation, her confidence levels skyrocketed; she became interested in working out again; and was able to wear the cute clothing she could never get away with before without being labeled a bimbo.
Like Ariel Winter, Sheldon says she was finally able to live her life freely and without feeling self-conscious, and writes that breast reduction changed her life for the better.
"When the surgeon removed the physical weight from my chest, he unknowingly also removed the emotional weight that I had been carrying in my heart."
NYC plastic surgeon
For more information about breast surgery in Manhattan with renowned plastic surgeon Dr. Thomas Loeb, we invite you to schedule an appointment by calling 212-327-3700. Dr. Loeb specializes in breast reduction, augmentation and reconstruction procedures in his surgical suite on NYC's Upper East Side.