What Are the Most Natural-Feeling Breast Implants?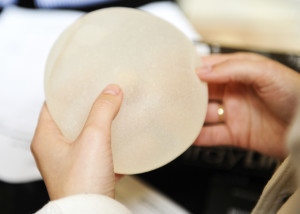 Breast augmentation remains among the most commonly requested of all plastic surgeries. If you've been thinking about taking the leap and getting breast implants, you should be fully informed about the procedure, the recovery, and your choice of implants. Your best source of information is a board-certified plastic surgeon. Your surgeon can tell you about the two main types of breast implants, which are saline and silicone. Both types of implants have strong advantages to consider. Whichever type you choose, you can look forward to feeling more confident with your femininity and more pleased with your appearance.
A look at saline breast implants
As the name suggests, saline breast implants are filled with a sterile saline solution. The surgeon will place them in your body unfilled, and then fill them. The amount of solution dictates the size of the implant. In the event that the shell of the implant is compromised, the saline will leak harmlessly into the surrounding tissues. It will be absorbed and then naturally processed out of the body.
Saline breast implants have a relatively natural feel and look. If you're concerned about the natural feel of your breasts, your surgeon may recommend submuscular placement. This refers to placing the implants underneath breast tissue, rather than close to the surface of the skin. This can enhance the natural feel of saline implants. Additionally, some patients choose saline implants because there's no need to get an MRI periodically to check on the condition of the implants.
Spotlight on silicone breast implants
Silicone implants are quite different from saline implants. They are pre-filled with a thick silicone gel material. Many people think that silicone implants feel extremely natural. They tend to feel soft, like breast tissue, and they also tend to produce little to no rippling. Plastic surgeons often recommend silicone implants for specific breast augmentation patients. Dr. Loeb, a board-certified surgeon from Manhattan, had this to say about them:
"I often recommend silicone implants to women with thin frames, less breast tissue, and thinner muscles. The excellent look and feel of silicone implants will produce superior results in women with these physiques."
What are gummy bear implants?
There's another choice to consider. Gummy bear breast implants are a type of silicone implant. They got their informal name because, if you were to slice into one of these implants, the material inside wouldn't leak out. The shape remains stable, just like a gummy bear would if it were sliced in half. Many women enjoy the natural feel of gummy bear implants. They also produce a natural-looking breast profile, and they aren't likely to cause rippling.
Get personalized guidance for breast implants in NYC
Of course, there's no one right choice. Every woman has unique goals, expectations, and lifestyle needs. The best way to determine which type of breast implant is the right one for you is to talk to a plastic surgeon. If you're thinking about getting breast implants in New York City, you can schedule a breast surgery consult with Dr. Thomas Loeb—a renowned breast implant surgeon who is board certified and has an excellent record of patient safety and satisfaction. Dr. Loeb will carefully evaluate your expectations and physique, and make appropriate recommendations. Our office prides itself on exceptional patient education.
Call 212.327.3700 to request a confidential appointment with Dr. Loeb in Manhattan.