Fat Grafting Can Improve Facelift Results
Jenn Fusion | July 6, 2015 | Posted in
Facelift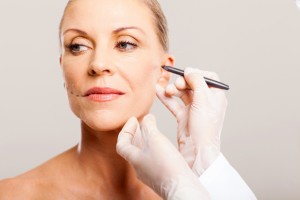 Fat grafting is a technique that removes a small amount of fat cells from a patient's thighs or abdomen and transfers them to the face to provide additional volume in select areas. Fat transference provides patients with a more natural, youth-restored appearance and avoids the artificial "pulled-tight" look.
Fat-grafting works best on thin, aging faces, rather than young or overweight individuals who have not lost significant volume. The procedure can be done stand-alone as a facelift alternative or in combination with a facelift, depending on need. Patients seeking volume restoration and a facelift in NYC can ask experienced Manhattan plastic surgeon Dr. Thomas W. Loeb about this increasingly popular technique used to deliver more satisfying results to patients.
Volume loss causes premature aging in the face, says Dr. Loeb
"In the past, facelifts focused on two mechanisms of the aging process: skin sagging and wrinkling. Volume loss to the face – particularly around the eyes, cheeks and jawline — is now viewed as an equally important component," explains Dr. Loeb. Metaphorically, he says, one can think of it as the difference between a grape and a raisin.
He says that adding volume replenishment to his facelifts has yielded great patient satisfaction. "Volume restoration not only reverses the hollowed-out look that is common in aging faces, but also adds light to the face and improves skin texture and tone through a stem-cell response."
Common sites for volume restoration
Over the past decade, fat grafting has become popular – not just in New York City – but across the country as well. A study published in the July issue of Plastic and Reconstructive Surgery reports that 85 percent of US plastic surgeons use fat grafting during facelift procedures. Most commonly, fat was harvested from the abdominal area and injected in small amounts, primarily to the cheek area to produce a rounder face shape. The areas below the lower eyelids and nasolabial folds between the nose and corners of the mouth are other common sites for volume restoration.
Some of the fat is reabsorbed into the body over time, but plastic surgeons believe most of the transferred fat remains one year later and patient satisfaction ratings are high.
Part of the reason fat transference has become so widespread is the improvement in technique to minimize risk and improve results. "Modern techniques allow for minimally-invasive fat transfer," says Dr. Loeb, "so there are no facial incisions."
Considering a facelift in NYC?
Dr. Thomas W. Loeb has earned a reputation as being one of the "top 10 eye guys" (Bazaar Magazine) and the man behind Paula Jones' new nose. In August 1999, Vogue Magazine listed him in their article about "the best facelifts in New York." You can see his fantastic before and after facelift results and call 212-327-3700 to schedule facial surgery appointment to discuss whether fat grafting facelifts could be the right solution for your aesthetic needs.