Thigh Lift vs. Liposuction: Which Is Right for Me?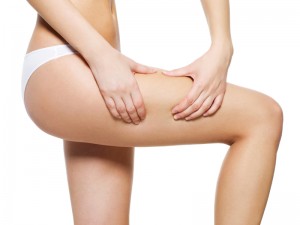 The inner and outer thighs are a common 'problem' area for many of our female patients. Age and genetics play a large role in how fat is distributed throughout the body, and the legs are no exception. Despite firming exercises and a healthy diet, some women are just unable to get rid of saddlebags and pesky areas of fat. Others may have reached their weight loss goals, only to find that their skin is loose and stretched along the inner thighs.
Fortunately, there are body contouring procedures designed to target excess fat and remove loose, drooping skin for a more sculpted, toned appearance. In capable hands, a thigh lift and liposuction can each produce exceptional results in terms of restoring definition and tone to the upper legs.
A thigh lift and liposuction have distinct applications and limitations – criteria which can help prospective patients and their doctors determine which option is the most suitable.
When is a thigh lift recommended?
Thigh lift surgery significantly improves the appearance of the thighs by removing excess skin from the inner or outer thighs, or both – depending on the patient. One of the primary advantages of a thigh lift is that it addresses loose, sagging skin that has stretched with time and weight gain and subsequent loss.
A lateral thigh lift corrects skin laxity on the outer portion of the thigh, whereas a medial (or inner) thigh lift tightens the upper portion of the thighs.  Many people who are prime candidates for thigh lift surgery have successfully lost large amounts of weight or have experienced changes in skin tone and contour as the result of pregnancy.
Thigh lifts may be performed in conjunction with liposuction, which removes stubborn fat deposits that accumulate. In situations where patients are unhappy with both the shape and size of their thighs and their skin elasticity is poor, a thigh lift with liposuction may be suggested for optimal results.
Liposuction for thighs
Liposuction is an effective cosmetic procedure for eliminating diet and exercise-resistant pockets of fat. This minimally-invasive body sculpting treatment is often used to target saddlebags, inner thigh fat or a combination of the two. During the procedure, a numbing agent is injected and a small cannula is moved in the areas to suction out the fat cells. Lipo may be tumescent or laser-assisted, and is a well-tolerated outpatient procedure.
However, skin laxity is not something that liposuction can correct, as there are no surgical incisions for skin removal and tightening. Patients who want fat removal and are also dissatisfied with excess dimpling and loose skin may see better results with a combination thigh lift and lipo.
Lipo versus Inner thigh lift in NYC
A board-certified plastic surgeon can help patients select the right procedure to meet their aesthetic goals. Young, supple skin tolerates liposuction quite well, but with age comes a decline in skin elasticity, meaning liposuction alone may not provide the desired outcome.
Here at the Manhattan plastic surgery office of Dr. Thomas Loeb, we offer the latest surgical and non-surgical options for slimming and toning the body. To learn more about liposuction or an inner thigh lift NYC with Dr. Loeb, we invite you to reach out for a private consultation.
Additional Resources:
Advanced Institute for Plastic Surgery, What is Thigh Lift Surgery? http://www.aiplasticsurgery.com/thigh-lift-surgery/
ASPS, Thigh Lift Surgery https://www.plasticsurgery.org/cosmetic-procedures/thigh-lift
ASPS, Liposuction https://www.plasticsurgery.org/cosmetic-procedures/liposuction