Get Ready for New Year's Eve with These Last-Minute Cosmetic Fixes
Jacky Gale | December 26, 2018 | Posted in
Skin Care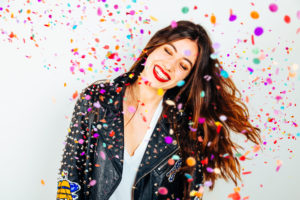 New Year's Eve in New York City is always a crowd-pleaser. Even if you aren't attending the annual ball drop party in Times Square, there are always lots of smaller parties going on around the city. With the chaos of the holiday season, you're probably scrambling to find the perfect outfit to wear as you welcome in the New Year, and you certainly don't have time to undergo a major cosmetic procedure (or to deal with its recovery time). But fortunately, there are plenty of last-minute cosmetic fixes that can get you looking your best on New Year's Eve. With treatments like Botox and dermal fillers, you'll get great results without any downtime!
Botox: Why you should believe the hype
Botox has been one of the most widely lauded cosmetic treatments in recent memory. Since it was FDA-approved in 2002 for the treatment of moderate to severe frown lines between the eyebrows, countless women and men have had Botox treatments to fight back against the signs of aging. Botox works by relaxing the facial muscles to prevent the appearance of wrinkles. It's the perfect cosmetic fix when there isn't much time to get ready for a big event. No downtime is required, and its results can be seen very quickly. Afterward, you can expect to enjoy the results for about three to six months.
Dermal fillers: Perfect for smoothing away laugh lines
Dermal fillers are another great pick-me-up when you want to look as young as you feel, but have no time to spare for a lengthy recovery period. Dermal fillers plump up depressed areas, smoothing away laugh lines and other types of wrinkles. Like Botox, dermal fillers don't require any downtime, and you can see the results right away. Plus, dermal fillers are long-lasting. Depending on the specific type of filler material and the brand you choose, you can expect your results to last anywhere from six months to two years.
Lip fillers: Get a perfect pucker without surgery!
The pouty lip is a trend with staying power. If you want to look your best while counting down the seconds until the ball drops at midnight, lip fillers are a great option. There are two approaches to lip augmentation: Implants and injections. Since you don't have much time until New Year's Eve, opt for the injections. The implants require a bit of downtime, but the lip injections are a quick fix. You'll be asked not to purse your lips for about two days afterward, but you can return to your other usual activities right away.
Find your cosmetic fix in Manhattan, NYC
Whatever your cosmetic goals are, you can find the right treatment for you at the Manhattan, NYC office of Dr. Thomas Loeb. Dr. Loeb is a board-certified plastic surgeon who is renowned for his clinical skills and sense of artistry. While patients come to his office from around the world for facial surgery procedures like rhinoplasties and mommy makeovers, Dr. Loeb is also pleased to offer safe and effective cosmetic treatments like Botox and dermal fillers. To request a confidential, one-on-one consultation with Dr. Loeb, call his Fifth Avenue office at 212.327.3700.
Resources for quick cosmetic fixes
American Society of Plastic Surgeons, Dermal Fillers, https://www.plasticsurgery.org/cosmetic-procedures/dermal-fillers/recovery
American Board of Cosmetic Surgery, Lip Enhancement, https://www.americanboardcosmeticsurgery.org/procedure-learning-center/facial-procedures/lip-enhancement/