Rhinoplasty to Create a High Bridged Nose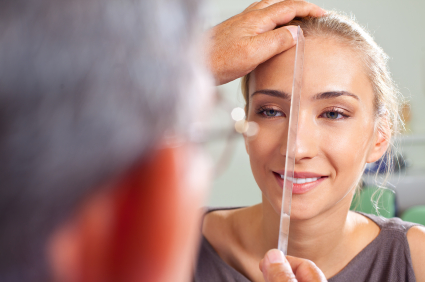 Many accomplished plastic surgeons consider nose jobs, also known as rhinoplasty, to be the most sophisticated surgery of all facial procedures. In capable hands, rhinoplasty can improve a patient's confidence immensely, by sculpting the bridge, tip or nostrils so they are more proportionate with the rest of the face.
Some men and women may be bothered by the appearance of their noses – usually considered our most prominent facial feature. A flatter nasal bridge – common in some Asian and African American patients – may give the illusion of particularly wide set eyes and generate anxiety for some. Plastic surgery to heighten the nose bridge can change this look while giving the impression of a slightly longer and more refined nasal tip.
But getting beautiful results from rhinoplasty to create a high bridged nose rests largely with the artistic sensibility and talent of the cosmetic surgeon.
Plastic surgery to achieve a high bridged nose
Noses that have a more prominent bridge, such as the Romanesque nose, typically appear slimmer when viewed from the front.  Nevertheless, a high nasal bridge doesn't equate to universal beauty in every case. The contours of your nose have to harmonize with the shape of your eyes, chin and the rest of your face. Ultimately the goal of any rhinoplasty involving bridge augmentation is to create a nose that blends seamlessly and remains ethnically balanced with other facial features.
When raising or elevating the nasal bridge, your surgeon may use an implant or a continuous segment of cartilage, with an eye toward creating a symmetric and natural-looking bridge contour. Skilled rhinoplasty surgeons typically utilize autologous cartilage grafts – harvested from the patient – in the creation of a high nasal bridge. This may entail using rib cartilage that lets the surgeon augment the bridge without having to join several smaller grafts. The cartilage is carefully reshaped to cover the entire span of the bridge, improving the odds of a positive rhinoplasty outcome.
Nasal implants are another alternative, in which surgeons use a biocompatible material that is customized in width and length depending on the anatomy of the patient. Some of the more advanced nasal bridge implants are made with Goretex, which has been proven to be very safe and is quickly stabilized by surrounding tissue. Surgeons will make every attempt to perform closed rhinoplasty (incisions are made inside of the nose) that doesn't leave any scars. In the event that open rhinoplasty is necessary, extreme care is taken to ensure the scars are well concealed.
Healing and recovery process
Rhinoplasty, just like any kind of facial plastic surgery, entails a bit of downtime for healing. Most patients are back at work or their normal routine within 10 days of surgery. By this time, the majority of bruising and swelling has diminished but patients can expect to see major results within 3 months of the procedure when the bulk of residual inflammation has subsided. The full healing process for any type of nose job takes up to one year, though the last few months are comprised of tiny changes that are not noticeable to most patients.
Rhinoplasty in NYC
Dr. Thomas W. Loeb is well-versed in the aesthetics of facial beauty and is a renowned expert in rhinoplasty and revision rhinoplasty procedures.  View rhinoplasty before and after photos and call Dr. Loeb's Manhattan plastic surgery office at 212-327-3700 to schedule a private consultation.