What's the Difference Between a Rhinoplasty and a Septoplasty?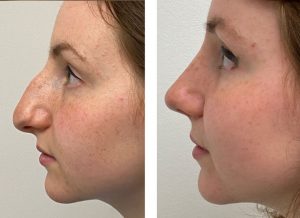 If you're unhappy with the look or function of your nose, you might consider consulting a plastic surgeon about getting a nose job. There are two main plastic surgery procedures for the nose: a rhinoplasty and a septoplasty. While both surgeries are performed on the same facial feature, they are quite different.
What is a rhinoplasty?
A rhinoplasty surgery is most often performed to adjust the appearance for cosmetic reasons. A plastic surgeon can reshape the bone and cartilage to create a symmetrical, graceful nose that enhances the beauty of the face. A surgeon may remove bone and cartilage, and in other areas, bone and cartilage grafts may need to be added.
Note that a rhinoplasty may also be performed for medical reasons. For example, if you have impaired airflow, the plastic surgeon can improve the function of the nose while simultaneously enhancing its aesthetic appearance.
What is a septoplasty?
Whereas a rhinoplasty may adjust multiple areas of the nose, a septoplasty only adjusts one: the septum. The septum is the tissue that separates your nostrils and nasal passages. In some people, the septum becomes crooked. This asymmetry can interfere with proper breathing and cause discomfort. It can also raise the risk of frequent sinus infections, which can be caused by poor drainage. Furthermore, one nasal passage will be smaller than the other. The larger nasal passage has increased exposure to the air, which causes excessive drying of the tissues and may lead to bleeding and crusting.
A person may opt to undergo a septoplasty to straighten the septum. This will normalize breathing and airflow, greatly enhancing the individual's comfort level. To straighten the septum, the plastic surgeon may need to remove certain parts of the septum and then place them into their proper positions.
Do you need a septoplasty or a rhinoplasty?
If you have a deviated septum, you'll need a septoplasty. However, it's not unusual for people with a deviated septum to have some cosmetic concerns about their nose's overall appearance. Plastic surgeons often perform septoplasties and rhinoplasties during the same appointment, rather than scheduling two separate surgeries. This allows you to achieve your aesthetic and functional goals at the same time. Furthermore, you would only have to go through one recovery period.
What to expect from the recovery process
Having a septoplasty and a rhinoplasty at the same time will not increase your recovery time. It's important to follow your plastic surgeon's post-operative instructions to the letter. You'll be instructed to keep your head elevated while sleeping, avoid blowing your nose and avoid pulling clothes over your head for a few weeks (wear button-up shirts). Patients are also generally advised to avoid strenuous activity for at least a few weeks.
Everyone's recovery timeline from surgery is a little different. For nose surgeries, in particular, it can take months for the residual swelling to completely subside, although considerable improvement can be seen within weeks.
Schedule a consult with a rhinoplasty specialist
Patients from around the world visit Dr. Thomas Loeb of Manhattan for their rhinoplasty and septoplasty procedures. Dr. Loeb is a board-certified, world-renowned nose specialist who blends his clinical expertise with a refined sense of aesthetics. His rhinoplasty results speak for themselves– as do his many satisfied patients. To schedule a consult with an experienced plastic surgeon in NYC, call us today.
Additional resources on rhinoplasty
Mayo Clinic, Septoplasty, https://www.mayoclinic.org/tests-procedures/septoplasty/about/pac-20384670
Mayo Clinic, Rhinoplasty, https://www.mayoclinic.org/tests-procedures/rhinoplasty/about/pac-20384532