3 Surprising Causes of a Double Chin
Jacky Gale | April 21, 2018 | Posted in
Skin Care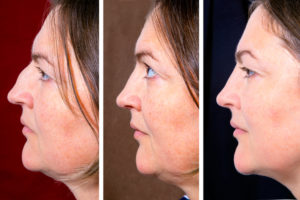 Turkey wattle. Submental fullness. Whatever you choose to call it, you'd love to get rid of it, right? Even if your double chin isn't always protruding in an obvious way, it seems to make its appearance at the worst possible times. Like when you're posing for pictures in a bridesmaid's dress or arriving on the beach for your long-anticipated summer vacation. So what exactly causes the dreaded double chin? And is there an easy, nonsurgical method of double chin removal? The answers may surprise you.
Genetics
In many cases, that extra fat under the chin is the result of extra pounds. But there are plenty of people within a normal range of body weight that cart around an extra chin. Some of those individuals were simply born with it. Aside from excess body fat, genetics is one of the biggest culprits of double chins. So if you've been hard at work in the gym, but the results haven't migrated to your jawline, then you probably have your Aunt Sally or Grandpa Joe to thank for it.
Salivary gland inflammation
Sometimes, double chins are the result of an underlying medical condition. This is more likely to be true for a person who suddenly notices that a double chin has appeared overnight. Your salivary glands are busy, behind-the-scenes workers. They make up to one full quart of saliva every day. This helps you digest food and prevent tooth decay, but sometimes, all that saliva has trouble draining properly from the glands. Things like salivary stones, gland infection, and gland inflammation cause the area to swell up, which contributes to submental fullness.
Low thyroid function
Hormones can do some pretty amazing things for your body, but only when they're at the right levels. Too much or too little of a particular hormone can lead to unpleasant health problems, and sometimes, to aesthetic issues like a double chin. Hypothyroidism, in which the thyroid gland makes too little thyroid hormone, is one of the common medical causes of puffiness under the chin. Hypothyroidism can contribute to weight gain all over your body, as well as in the neck region.
Kybella in NYC: your nonsurgical solution for double chin removal
Unfortunately, spot reduction through diet and exercise is impossible. In other words, lifestyle changes can help you lose fat, but you can't target the fat loss to a specific area of your body. There is a safe and effective solution, however, and it doesn't even require surgery. Visit Manhattan plastic surgeon Dr. Thomas Loeb to discuss Kybella.
Kybella is a revolutionary treatment that uses targeted injections of fat-busting substances to minimize submental fat. It's FDA-approved, and in the hands of a trained plastic surgeon, it's a safe way to sculpt your jawline and rid yourself of pesky jowls. Do go to a board-certified plastic surgeon for your treatment, like Dr. Thomas Loeb, who is an expert provider of Kybella in New York City. You can request a confidential consultation at Dr. Loeb's Fifth Avenue suite in Manhattan by calling 212-327-3700.
Additional resources about Kybella for double chin patients
The Atlantic, The Injection that Melts a Double Chin, https://www.theatlantic.com/health/archive/2017/06/kybella-the-injection-that-melts-a-double-chin/529893/
RxList, Kybella, https://www.rxlist.com/kybella-drug.htm