6 Ways to Get Rid of Under Eye Bags
Andrew | January 10, 2019 | Posted in
Skin Care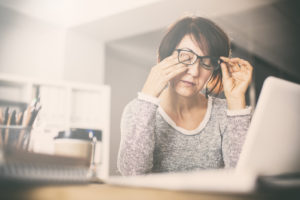 The skin around and under your eyes is only 0.33mm thick, making it 3 to 5 times thinner than the rest of the skin on your face and incredibly delicate. Your under eye skin is sensitive, and a big symptom of this sensitivity is bags.
Dark, puffy and unseemly, under eye bags are a very common issue. Under eye bags are generally caused by:
Genetics
Allergies
Fatigue
Sun exposure
Aging
Skin inflammation like eczema
Beyond diagnosing and treating the underlying causes, there are a few ways you can treat your under eye bags including the follow 6 ideas.
Tea Bags
Caffeinated tea bags are very effective at reducing under eye bags and dark circles. This is because most caffeinated teas have powerful antioxidants that help increase blood flow, protect against UV rays, and maybe even slow signs of aging. Simply steep two bags for 3 to 5 minutes, then chill them for 20 minutes. After squeezing out extra liquid, apply the bags under your eyes for 15 to 30 minutes.
Drink Water
Dehydration is another big cause of under eye bags, so upping your daily water intake can help a lot. Experts recommend drinking 13 to 9 cups of water every day. Unfortunately sodas, juices and other sugary drinks don't count. If you want more flavor, try water infused with fruit or a no-calorie sparkling water.
Change Sleeping Positions
Fluid can build up under your eyes while you sleep, leaving you with pesky bags in the morning. If you sleep on your side or your stomach, you might be making this problem worse. Try sleeping on your back or adding an extra pillow under your head.
Retinol Creams
Retinol creams are very effective at reducing under eye bags. Similar to vitamin A, retinol can help increase your body's natural collagen production, making the skin under your eyes firmer, tighter and less baggy. You can find lower concentrations of retinol in many over the counter creams, but if you want a hire dosage you need a prescription.
Microneedling
Microneedling is a collagen induction therapy, and is most commonly used to reduce wrinkles, scarring and under eye issues like bags. In the procedure, fine needles puncture the skin to incite natural rejuvenation. It usually takes about 6 sessions to see results.
Hyaluronic Acid Filler Injections
Hyaluronic acid filler injections, like Juvederm and Restylane, plump up sunken and baggy under eye skin to restore natural, youthful lines and get rid of bags.
If you want to learn more about hyaluronic filler injections, or any of these other eye bag treatments, contact the Manhattan cosmetic surgeon office of Dr. Thomas Loeb to schedule a facial surgery consultation.
Additional Resources for Under Eye Bag Treatments:
WebMD, Banish the Bags Under Your Eyes, https://www.webmd.com/beauty/ss/slideshow-banish-the-bags-under-your-eyes
Elle.com, How to Get Rid of Bags Under The Eyes, https://www.elle.com/uk/beauty/skin/a39483/how-to-get-rid-of-bags-dark-circles-under-eyes/