A New Solution for Deep Lines & Wrinkles: Vollure XC Dermal Filler
Ava Lawson | April 28, 2017 | Posted in
Skin Care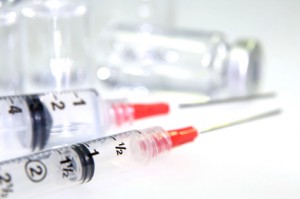 Age and gravity can take a serious toll on our facial appearance, as collagen production slows down and we lose volume and fullness that lend a youthful glow. One of the most common complaints among women (and men) is the appearance of wrinkles and deep folds in the skin, especially around the nose and mouth. Fortunately, there are a range of non-permanent injectables that can restore lost volume while significantly diminishing deep lines and folds.
If you have prominent naso-labial lines (also known as "laugh lines"), there is a brand-new hyaluronic acid dermal filler that has been developed to address this specific problem: Juvederm Vollure XC. Manufactured by Allergan, this revolutionary filler joins their successful Juvederm product line, including Juvederm Voluma & Juvederm Volbella. While Juvederm Vollure XC has been on the European market for several years, the FDA recently approved the filler for the correction of moderate to severe nasolabial folds and facial wrinkles in adults over the age of 21. What's even more exciting is that Vollure XC is reported to last up to 18 months, which is nearly a full year more than other fillers currently available.
About Juvederm Vollure XC
Like other Juvederm injectables, Vollure XC is hyaluronic acid filler that is injected into targeted areas of the skin to boost volume and reduce the appearance of lines and wrinkles. Hyaluronic acid occurs naturally in the bodyand has been shown to offer impressive anti-aging benefits as it hydrates and visibly fills out sunken areas. Hyaluronic acid replenishes the skin's moisture from the inside out, giving you healthy, supple and radiant skin with fewer wrinkles.
What sets Juvederm Vollure XC apart from the pack is its proprietary VYCROSS technology that is engineered to maintain the cohesiveness of the hyaluronic acid over longer periods of time. Vycross was developed with both low and high molecular-weight hyaluronic acid, which creates a stronger cross-link bond within the filler. In other words, Juvederm Vollure XC is a more cohesive and connected gel, allowing it to plump up areas of skin that are sunken. This advanced cross-linking technology also reduces the speed of hyaluronic acid breakdown, allowing it to last for up to 18 months in nasolabial folds (which is the best result seen in clinical trials). In preliminary trials conducted in the U.S., 59% of Juverderm Vollure XC patients saw improvement in moderate to severe nasolabial folds for up to a year and a half, and 68% said they were "very satisfied" at 18 months.
Clinical studies of Vollure XC revealed another great advantage of this new formula: shorter recovery times and less swelling compared to other HA-based fillers.
This groundbreaking new filler provides a new tool to customize and tailor treatments according to patient-specific needs, and is currently available in the NYC plastic surgery office of Dr. Thomas W. Loeb, who offers a full menu of anti-aging and facial rejuvenation treatments.
Facial rejuvenation in New York City
If you are bothered by the appearance of deep laugh lines and wrinkles and are wondering if Juvederm Vollure XC is right for you, we invite you to arrange a private facial surgery consult with Dr. Loeb in his Fifth Avenue suite. Please call or use our online contact form to schedule your appointment.
Additional "Vollure XC Dermal Filler" Resources: 
Allergan, JUVÉDERM VOLLURE™ XC  https://www.allergan.com/news/news/thomson-reuters/juv-derm-vollure-xc-approved-by-u-s-fda-for-correc
Allure, The Juvéderm Vollure XC Filler Has Just Been Approved by the FDA http://www.allure.com/story/juvederm-vollure-xc-filler-laugh-lines