Are Lip Fillers Permanent?
Jacky Gale | July 29, 2019 | Posted in
Skin Care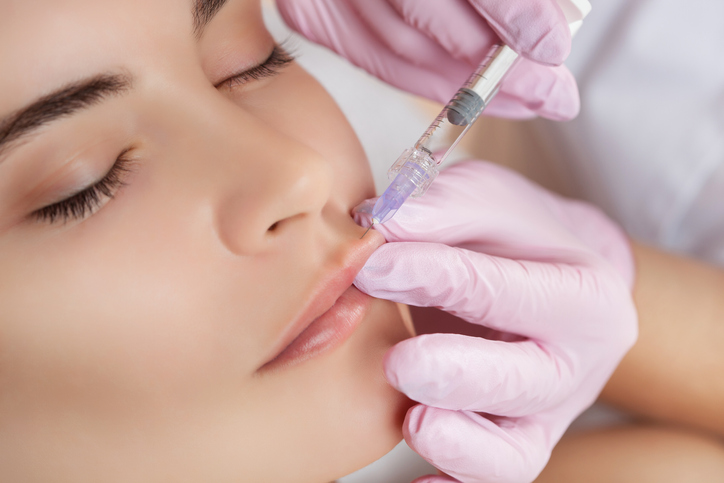 Full, plump lips are generally considered sensuous and desirable. Unfortunately, not everyone is born with them. If you're considering having a lip augmentation procedure, you'll undoubtedly want to know more about your options. Your best source of information is a board-certified plastic surgeon. A surgeon can answer all of your questions, such as whether lip fillers are permanent.
How long do lip fillers last?
How long lip fillers will last really depends on the type of procedure you choose. There are two main options: lip implants and lip injectables. Lip injectables are not permanent, but lip implants are. Even if you think you might want a permanent option; however, it may be a good idea to start with a lip injection first. This allows you some time to "test drive" your new lips and see how you like them before opting for a permanent solution. Plus, if you decide to move ahead with a lip implant procedure, you'll have a better idea of how much of an augmentation you want.
An overview of lip injectables
If you're familiar with dermal fillers, then you already know the basic concept behind lip injectables. They work by plumping up the underlying tissue. And in fact, lip fillers are typically based on one of the same solutions used in dermal fillers for wrinkles—hyaluronic acid.
Exactly how long a lip injectable will last depends largely on the one you choose. Two of the most commonly used injectables are Juvederm and Restylane. Both of these can last up to six months, but a specific timetable can vary from one patient to the next. Volbella is a newer injectable. It can last up to 12 months. Vollure is the longest-lasting injectable currently available. Patients can see results for up to 18 months.
A closer look at lip implants
If you decide that you do want a permanent solution for thin lips, your plastic surgeon might find that you're a good candidate for the implant procedure. This is a minimally invasive, in-office surgery. After sterilizing and numbing the area, the surgeon will make a small incision at each corner of the mouth. The surgeon will then create a "tunnel" through the lip, above the lip muscles and underneath the lip fat. Then, the implant is placed and the incisions are closed.
A silicone lip implant could potentially last a lifetime. However, if there are ever any problems or if you decide you don't like the look of it, you can always have it removed.
Schedule a consult for lip augmentation in NYC
If you're curious about whether lip injections or lip implants could be a good option for you, you can schedule a confidential, one-on-one consultation with Dr. Thomas Loeb. He is a board-certified, world-renowned plastic surgeon who routinely performs lip augmentation in Manhattan. During your consult, Dr. Loeb will assess your overall health, discuss your aesthetic goals, and plan your treatment. Please bring your questions and concerns, as Dr. Loeb prides himself on thorough patient education. Call 212-327-3700 to schedule your appointment.
Additional resources on lip fillers: