Getting Ready for a Wedding? Check Out These Top Beauty Trends
Jacky Gale | June 29, 2017 | Posted in
Skin Care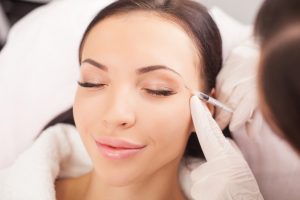 Every bride wants to look her best on her wedding day. With some advanced planning and a few pampering days at the plastic surgery office, every bride can achieve that radiant glow of self-confidence—not to mention a photo album stuffed full of picture perfect shots. If your special day is approaching, don't wait any longer to plan your treatments, as some require more recovery time than others.
Beauty treatments are also in high demand among maids of honor, bridesmaids, and wedding guests.
At Dr. Thomas Loeb's Manhattan cosmetic surgery office, brides-to-be and wedding guests can receive custom treatment plans that suit individual preferences and the wedding preparation timeline.
Achieve a glowing complexion
The most commonly requested beauty treatments for the 2017 wedding season have been Botox, dermal fillers, and chemical peels. Both brides and grooms—and their guests—have been flocking to these cosmetic treatments to get a radiant, flawless complexion.
Chemical peels are available in varying strengths. Most people choose a superficial or medium-depth peel, as deep chemical peels may require a longer recovery time. With superficial and medium peels, no anesthetic is required. The face will look a little swollen and red for about a week or less. During this time, the top layer of skin peels off to reveal the smooth, flawless skin underneath.
Chemical peels can address a wide range of cosmetic imperfections, including the following:
Acne
Acne marks and scars
Sun damage
Discoloration
Uneven skin tone
Lines and wrinkles
Rough skin texture
Melasma
After getting a chemical peel, it's particularly important to avoid unprotected sun exposure while the skin heals. Stay out of the sun as much as possible, and when you do go outdoors, apply liberal amounts of sunscreen and wear a wide-brimmed hat.
Say goodbye to wrinkles
Laugh lines, crow's feet, and horizontal forehead wrinkles aren't generally the sort of features a bride would want to see in her wedding photos. There are plenty of effective solutions that produce rapid results. Talk to a plastic surgeon about Botox injections, which are appropriate for lines and wrinkles in the upper half of the face. These safe injectables temporarily interfere with the signals that tell specific muscles to contract—a motion that produces wrinkles.
One major concern brides have about Botox is the possibility that it will cause "face freeze," as a wedding isn't an ideal time to maintain an expressionless face. Fortunately, in the hands of an experienced plastic surgeon, Botox won't have any negative effect on a person's natural appearance and spontaneous expressions.
Another option is dermal fillers, which are more versatile than Botox. They include Radiesse, Juvederm, and Restylane. Dermal fillers work by adding volume to plump up the depressed areas. The result is a natural-looking, photo-ready face.
Achieve your beauty goals at Dr. Loeb's NYC office
Brides, grooms, and wedding guests in the New York City area can turn to Dr. Thomas Loeb for personalized facial surgery treatments and patient-focused care. Dr. Loeb has earned a sterling reputation over the years, providing skin rejuvenation treatments, dermal fillers, Botox injections, and artistic plastic surgery procedures. Call his Manhattan office at 212-327-3700 to request your consult today.
More "wedding prep beauty trends" resources:
Washingtonian, Wedding Beauty Trends for Summer Event Season, https://www.washingtonian.com/2017/06/15/wedding-beauty-trends-summer-event-season/
WebMD, Chemical Peels and Your Skin, http://www.webmd.com/beauty/cosmetic-procedures-chemical-peel-treatments#1