How Long Does It Take Lips to Heal After Fillers?
Jacky Gale | November 6, 2019 | Posted in
Skin Care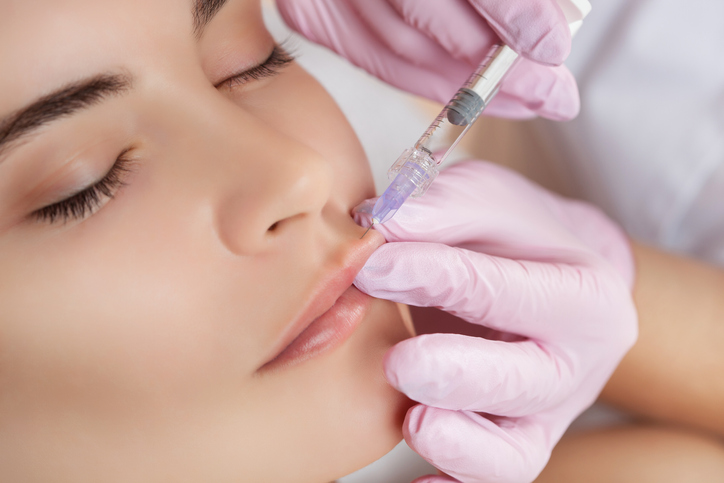 Full, sensuous lips are widely considered to be desirable. If you have naturally thin lips, you might want to talk to a board-certified plastic surgeon about your options for augmenting them. One of the most popular methods of enhancing the appearance of the lips is to use lip fillers. Lip fillers are injected, which means they are a minimally invasive, nonsurgical option for enhancing the lips. Although lip fillers do not require plastic surgery, it's still important to seek treatment from a board-certified plastic surgeon. In addition, you should be fully informed about the procedure, including what to expect from the healing process, before making a decision about whether to move forward with the treatment.
The healing timeline for lip filler patients
The lip filler treatment does not require much downtime. You may wish to take the rest of the day off work so you can assess how much swelling there will be. If you're concerned about swelling after lip fillers, consider getting the treatment done on a Friday. Most people can resume their normal activities no later than the next day. However, you should double-check with the plastic surgeon about whether you should limit certain exercises for a little while.
Note that plastic surgeons tend to use a numbing agent when doing lip injections. This means your lips will feel a bit numb. Be very careful when eating so that you do not accidentally chew on your lips. In addition, avoid eating very hot foods, as it'll be easier to burn your lips without realizing it because of the numbing agent.
How long will my lips be swollen after fillers?
Swelling is a normal bodily reaction to many different treatments, including lip injections. There is no need to worry if your lips swell up afterward. Some people will experience significant swelling, while others will barely notice it. Even if you've previously had lip injections with no swelling, it's possible to have swelling the next time you get the treatment. In most cases, the majority of the swelling will subside in about four days. Minor, residual swelling may linger for a total of two to three weeks.
There are a couple of things you can do to minimize the swelling. The most important step is to put an ice pack on your lips right away after getting the injections. When you return home, you should continue to put an ice pack on your lips for about five to 10 minutes at a time, several times per day. Wrap the ice pack in a clean cloth so that the ice isn't directly on your face. Another precaution that can help is to avoid sources of extreme heat for a week or two. For example, you should avoid using saunas and hot tubs, and avoid doing hot yoga.
Consult a board-certified plastic surgeon in NYC
Dr. Thomas Loeb has expertise and considerable experience performing all types of cosmetic enhancements, including lip augmentations with implants or fillers. Dr. Loeb prioritizes patient care and safety, and ensures that each of his patients is fully informed before they make a treatment decision. You can schedule a consultation for lip fillers in NYC by calling our Manhattan office today.
Additional resources on lip fillers: