Why More Guys Are Getting "Brotox"
Ava Lawson | August 24, 2016 | Posted in
Skin Care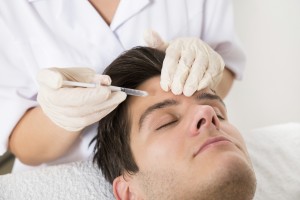 According to recent statistics from the American Society of Plastic Surgeons, Botox is breaking gender norms as thousands of middle-aged men are tapping into this veritable fountain of youth. In 2014, more than 400,000 U.S. men had "Brotox" injections for forehead wrinkles that can age a man well beyond his actual years.
"Male patients who have tried Botox look better, feel better, and believe it gives them a competitive edge. There's also less of a stigma associated with cosmetic procedures nowadays," says Dr. Whitney Bowe, an assistant medical director at Advanced Dermatology P. C. in Ossining. The rapid growth of Botox for men points to a huge shift in the stigma previously associated with plastic surgery. In today's world, prominent male sports stars, reality personalities, actors and celebrities are openly speaking out about their cosmetic alterations, erasures and treatments.
Men embrace "Brotox" and facial rejuvenation
The truth is that men are just as worried about their appearance as women, who have long been held to higher beauty standard. Whether it's less fat around the neck, a more contoured physique, or fewer facial wrinkles, guys want to look and feel their best, especially in a workplace with younger colleagues. Injectables like Botox, Dysport and Xeomin are a quick and safe way to maintain a healthy, refreshed appearance without going under the knife, and there's no downtime or recovery.
Increasing numbers of guys are embracing "lunch-hour" skincare treatments like Brotox to soften forehead wrinkles and prominent crow's feet. Others are turning to lasers for skin tightening, or Kybella to fix a double chin.
Here's a quick run-down of some of the most requested facial procedures for men:
Dermal fillers including Restylane and Juvederm are designed to boost volume and diminish skin folds, while adding definition and contour to the cheeks and jawline. Results can last upwards of one year.
Botox. Botox targets dynamic muscle movement that causes frown lines, crow's feet and forehead furrows. The injections are painless and the results last 3-5 months.
Microdermabrasion is a gentle but effective lunch-hour treatment that buffs away dead skin cells, revealing fresh, youthful-looking skin. Microdermabrasion can help diminish the appearance of sun damage, shallow scars and pigmentation problems. Most patients benefit from at least 3 sessions spaced 4-6 weeks apart.
Expert Botox injector in NYC
For those guys who would like to give Brotox a try, it's important to choose your doctor carefully to avoid a "frozen face" or other undesirable results. Plastic surgeons who specialize in facial injectables have a thorough knowledge of anatomy, muscular structure and the effects of injectables in targeted areas.
A leading Manhattan plastic surgeon, Dr. Thomas W. Loeb has a keen understanding of the aesthetic concerns facing men today. His treatment plans are personalized to facilitate the most natural results. If you'd like a consult for Botox or other minimally-invasive facial surgery procedures, we invite you to schedule a private consultation.