How Rhinoplasty Can Treat a Deviated Septum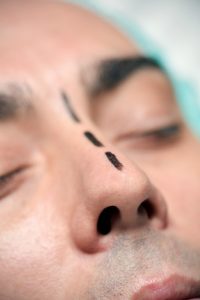 Surgical correction of a deviated septum is referred to as "septoplasty," while cosmetic enhancement of the nose is called "rhinoplasty." In recent years, the lines separating the two procedures have blurred, as it has been discovered that many people with crooked noses require internal repositioning of the septum as well. But how do you know if you should use rhinoplasty to treat a deviated septum?
What is a deviated septum?
The cartilage and bone of the septum divide the nose in half, between the two nostrils. A "deviated" septum occurs when this part of the nose is off-center, making one nasal passageway narrower than the other. Individuals can be born with a deviated septum or suffer the condition after a nose injury.
The Mayo Clinic notes that 70 to 80 percent of people have visibly deviated septums, but most cases are asymptomatic. For others, a deviated septum becomes burdensome to their breathing, sleeping, and overall health. Symptoms of a deviated septum may include:
An unflattering, bumpy, or crooked appearance
Difficulty breathing through the nose
Snoring, noisy breathing, or better breathing lying on one side
Pain on one side of the face
Allergy-like symptoms
Frequent nosebleeds and dryness
Recurrent sinus infections
Rhinoplasty vs. Septoplasty
If you are just concerned with breathing, septoplasty may be all you need. However, most patients have a hump, a hooked tip, or some other aesthetically unpleasing feature of the nose they'd like fixed while the surgeon is correcting the internal anatomy. So why not go for a rhinoplasty or combine the two practices?
Most skilled, experienced, board-certified plastic surgeons can do both. Rhinoplasty NYC surgeons pay special attention to symmetry to create better balance and attractiveness in the facial proportions that provide excellent patient satisfaction. Patients who have always desired a smaller, cuter, straighter nose love the results.
If you've ever dreamed of getting a nose job, it is best to have your deviated septum and aesthetic appearance corrected simultaneously to take advantage of one healing period and significant cost savings. Patients who combine procedures will pay just one facility fee, one plastic surgeon fee, and one anesthesia fee, with insurance subsidizing the septoplasty portion of the bill.
What happens during rhinoplasty?
Surgery to repair a deviated septum and correct the appearance of the nose can be done in an outpatient office setting, under local or general anesthesia. The surgery takes about 60 to 90 minutes to complete, with patients able to go home three to four hours later.
During rhinoplasty, the plastic surgeon will typically go in through the nostrils, straighten the bridge of the nose, open the nasal valves with a stabilizing graft, remove or reshape the bone and cartilage, and straighten the septum. Sometimes a small incision is also made across the columella skin that separates the nostrils.
Internal splints or soft packing material is temporarily placed in the nose to stabilize the healing septum. A week or two of swelling and bruising can be expected. Most people return to work after just one week.
Considering rhinoplasty in Manhattan?
Dr. Thomas W. Loeb MD is one of Manhattan's finest rhinoplasty and septoplasty surgeons. Nose jobs are one of his specialties, which attract patients from across the country and around the world who seek the very best. Dr. Loeb's plastic surgery research insights have been published in medical journals, university text books, and news magazines. His compassion and bedside manner have been praised in numerous reviews. The best way to choose a plastic surgeon for the best rhinoplasty and tip rhinoplasty Manhattan has to offer is simply to come in for a face-to-face consultation. Contact the office at 212-327-3700.
Additional "septoplasty vs. rhinoplasty" resources:
Mayo Clinic – If Symptoms Aren't Bothersome, Deviated Septum Usually Doesn't Require Treatment, http://newsnetwork.mayoclinic.org/discussion/if-symptoms-arent-bothersome-deviated-septum-usually-doesnt-require-treatment/
Web MD – What is a deviated septum?, http://www.webmd.com/allergies/deviated-septum#1
ASPS – Is it common to do rhinoplasty and septoplasty together?, https://www.surgery.org/consumers/ask-a-surgeon/common-rhinoplasty-septoplasty