Rhinoplasty – Cost, Recovery Time, Before & After Photos
Rhinoplasty is an ideal choice for patients who have a large bump or prominent tip, or those who have aesthetic or functional problems caused by injury. Rhinoplasty is popular for women, men and teenagers, and can often have a very positive effect on a person's self-esteem. Successful nose plastic surgery can be a life-changing experience. The key to successful nose reshaping is creating symmetry and a nose that complements the patient's facial features.
Rhinoplasty - Dramatic Results
In this video, Dr. Loeb, a NYC plastic surgeon, shares before and after images of dramatic rhinoplasty results. Patients who may have started with a very big nose or a very crooked nose or a wide nose or a nose with a very flat tip would fall under this dramatic results category.
Dr. Thomas Loeb, one of New York City's top rhinoplasty surgeons, favors a natural-looking rhinoplasty outcome and one that is in perfect harmony and balance with the face.  He also performs revision rhinoplasty for patients who have had disappointing results with prior surgical procedures.
What is rhinoplasty?
Rhinoplasty not only addresses the appearance and proportions of your nose, it can also correct a deviated septum, which can lead to serious breathing difficulties. One of the most commonly requested plastic surgery procedures, rhinoplasty surgery can help:
Change nose width and size for better facial balance
Narrow nostril openings
Fix nasal asymmetry
Change a bulbous or large nasal tip
Decrease the size of the nasal bridge
Enhance the angle between the nose and the lips
Correct a failed nose surgery
Repair a deviated septum
Help breathing problems
Nose reshaping is performed on an outpatient basis under local or general anesthesia. An incision is typically made inside the nostrils for inconspicuous scarring, though patients needing a cartilage graft may require an incision around the base of the nose. Any bumps are removed or refined to create a new profile. Then, depending on your requested changes, the nasal bones are broken and re-positioned carefully so that they meet in the mid-line and narrow the bridge.
If you suffer from a deviated septum, the nasal structure will be adjusted for improved alignment that will alleviate breathing impairments.
According to the American Society of Plastic Surgeons (ASPS), one of the most important decisions for any patient considering a nose job is choosing a board-certified and experienced rhinoplasty specialist. Good candidates for rhinoplasty surgery don't smoke, are in good overall health, have realistic expectations and are at least 15 years old. For more information go to http://www.plasticsurgery.org/cosmetic-procedures/rhinoplasty.html.
Rhinoplasty before and after pictures
Depending on the patient's goals and health, rhinoplasty may be an "open" or "closed" procedure that is carefully tailored for the most natural-looking outcome. It is highly recommended that all patients participate in a computer imaging session prior to nose surgery. This process helps communicate your expectations visually, and allows your surgeon to suggest specific changes and identify areas of improvement. Digital imaging with rhinoplasty pictures is a valuable tool for combining your ideal result with realistic expectations.
Dr. Loeb's gallery of nose job before and after photos illustrates the transformative results achieved by many patients, including one woman who had tremendous improvement after having her nasal tip refined, hump removed and bridge straightened. See some sample results below:
Click any rhinoplasty photo to enlarge
Click for Additional Rhinoplasty Before and After
 How much does rhinoplasty cost?
How much does a good nose job cost? Rhinoplasty, whether for a deviated septum or purely aesthetic concerns, is probably much more affordable than you think. Ultimately, the pricing will hinge on several factors including your location, your surgeon and the extent of your procedure. The total cost will include anesthesia fees, surgeon's fees and other facility charges.
As the website Enhance Myself explains, "slight surgical reshaping of the nose requires less surgical time, and therefore has a lower price tag than a complete change in shape. In general, a longer or more complicated procedure will be more expensive. This is especially true if your situation requires an overnight stay, although most rhinoplasty procedures are performed as outpatient procedures."
For convenience, Dr. Loeb offers his Manhattan and out-of-town patients several financing options, including affordable monthly payment plans.
Is rhinoplasty worth it?
Advanced techniques in rhinoplasty can transform a crooked nose or one with a disproportionate tip or hump into a beautiful feature that blends seamlessly with the rest of the face. In his article, "Twelve Things You Must Know About Rhinoplasty," Florida facial plastic surgeon Dr. Richard Davis based stresses that no result is absolutely perfect, but a talented rhinoplasty surgeon with artistic skill and technical expertise can help ensure a good cosmetic outcome. Davis reminds patients that surgical skills alone do not guarantee a positive rhinoplasty result. Healthy tissue and favorable healing responses are also important factors.
When performed by capable hands, cosmetic surgery can produce a visually pleasing nose that will flatter the face and last forever, but is rhinoplasty worth it? On Real Self, hundreds of patients recount their experiences with nose jobs, many with amazing results. One 23 year-old Los Angeles woman told the world about her quest for a more attractive and balanced nose. After waiting ten years and finding the right surgeon, she finally took the plunge and now – one year later – she's still in love with her new nose.
"I am very pleased with my new look and the procedure was quick and painless, the way it should be… my insecurity of my nose is gone. I'm happy to have a more feminine and smaller nose (I think so anyways). I highly recommend going for it if it's something that you want and have complete confidence in your doctor."
Read more rhinoplasty reviews at Real Self written by real patients talking candidly about their nose job experiences, costs and recovery.
Revision rhinoplasty
When it comes to fixing a botched nose job, understanding the basics of revision rhinoplasty and what this surgery can and can't do may boost your chances of a better outcome. Knowing what can be reasonably achieved and what to expect will minimize the likelihood of patient dissatisfaction. If after undergoing several nose jobs patients are still unhappy with the results despite getting exactly what they requested, underlying body image insecurities may be present, which may prove unhealthy if not dangerous. Learn more here: http://www.revisionrhinoplasty.net.
Revision rhinoplasty is a complex surgery used to correct asymmetry, conspicuous deformities and other serious problems caused by a previous procedure. Some attempts at rhinoplasty fail because of surgeon inexperience, poor pre-operative planning, damage to nasal structures during surgery, and excessive traction on the septal cartilage. Poor outcomes are often emotionally catastrophic for patients, pushing many into a downward spiral of despair.
Despite the challenges of correcting a failed nose job, wonderful results are still possible. Roughly half of Dr. Loeb's rhinoplasty cases are revision nose jobs. "Patients come to me with noses that are misshapen, with a hump, or very noticeable irregularities. Everyone who sees them can tell they've had surgery, and bad surgery at that. The goal is always to achieve an ideal result, but in these cases simply erasing the malformations and making the patient look normal again is a hugely satisfying outcome," explains Dr. Loeb.
"Most of my rhinoplasty patients don't come to me looking for the perfect nose, but simply the nose that suits them best, the one they feel they were meant to have…That's why it's particularly difficult for a patient to deal with a failed nose operation–to them, it feels like an injustice. For that reason, there's nothing more satisfying than restoring a surgery-damaged nose to its proper role in the overall aesthetic harmony of the face. Patients tell me they finally look like they are supposed to. That's satisfying for us both."
Tip rhinoplasty
Nasal reshaping surgery has several complicated facets, perhaps none more challenging than tip refinement. Patients who have had unsuccessful tip refinement rhinoplasty surgery may be left with an unfortunate appearance in which the nostril rims are pulled up too high, says San Diego rhinoplasty specialist, Dr. John Hilinski. Hilinksi explains that an aggressive cephalic cartilage trimming may leave the nostrils retracted (alar retraction) – a result of tissue that scars abnormally in an upward direction.
Managing this complication (which renders a piggy appearance) with "alar retraction" surgery entails moving the nostril rim downward for a more natural look and shape. Hilinski uses a composite graft taken from the ear composed of multiple layers of tissue for the most successful results. Using this approach, excessively arched nostril openings and contours can be moved back down for a more normal looking nose. See more about tip rhinoplasty: http://www.sandiegorhinoplasty.com/about-rhinoplasty/revision-rhinoplasty-composite-grafts-for-alar-retraction.
Teen rhinoplasty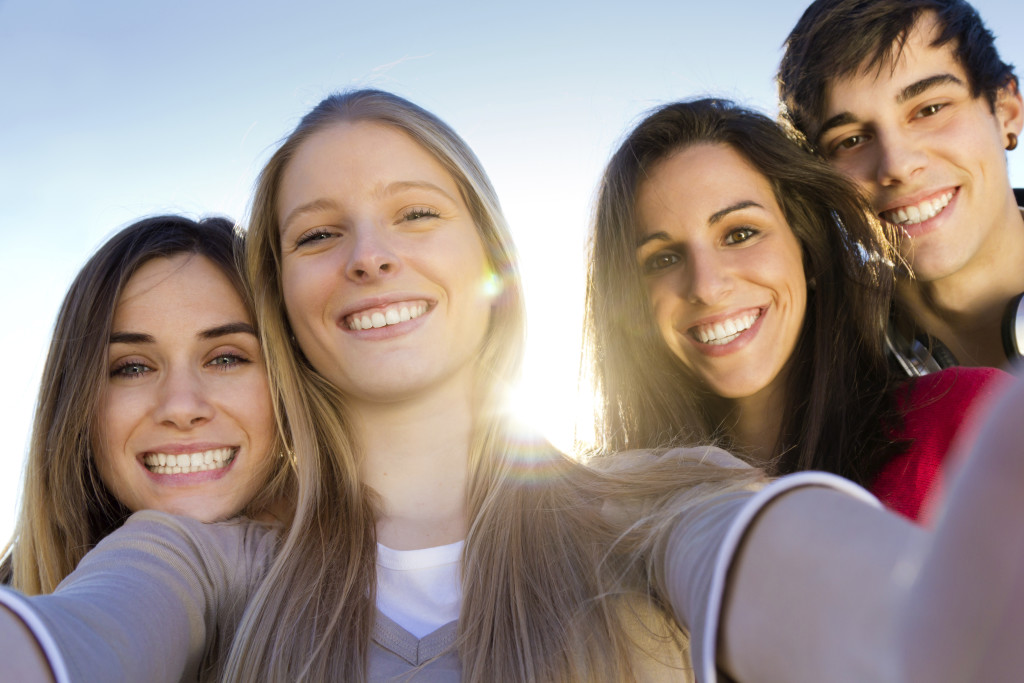 "Life is hard for teenagers who, like many celebrities, feel as though they are placed under increased scrutiny from their peers," says Dr. Loeb. Social media – particularly Facebook and Instagram – along with school bullying has spurred many teens to pursue plastic surgery, with rhinoplasty the most commonly requested procedure.
At the age of 18, Marie Remarque – now a university student in North Carolina – decided she was getting a nose job. She had been teased about her nose since the age of 11 and felt hopelessly ugly and unlovable in her own skin. Just before starting college, she decided to change the face she had loathed for so many years, and after the surgery a confident, happy girl was unveiled.
A year later Remarque says "Yes, it was worth it. For the first time, I know how it feels to be confident in my own skin…I can finally look in the mirror and see a face I admire."
"Teens frequently gain self-esteem and confidence when their physical problems are corrected. In fact, successful plastic surgery may reverse the social withdrawal that so often accompanies teens who feel different," says the American Society for Plastic Surgeons. However, plastic surgery isn't the solution for every teen, and some patients have later regretted their decision to go under the knife.
As an impressionable high school student, teenager Sabrina Weiss thought that rhinoplasty would help her fit in with the popular crowd. At the tender age of 14 she began asking her parents about nose surgery and less than four years later she got her wish in the form of a graduation present. Now, despite having a lovely petite nose with no visible humps, Weiss feels remorse about her decision. Even after her rhinoplasty, she was still incredibly shy. And social acceptance wasn't immediate. "My fantasy was that I'd have this surgery and I would turn into the person that would easily be able to connect with others and have this social ease," she told CNN, adding, "Looking back, if anyone had questioned what my reasons for doing this, they would've seen it was irrational and a fantasy that having this surgery was going to somehow transform my entire life."
Rhinoplasty can be performed once the nose stops growing; for most adolescents that means 15 for girls and 16 for boys. But emotional maturity is perhaps even more crucial than physical readiness. There is no doubt that rhinoplasty can change a teenager's life by improving self-confidence, but patients have to know that all their problems won't go away overnight simply by changing their appearance.
"Even more importantly, they have to be ready to cope with looking and feeling beaten up for a couple weeks," says Dr. Loeb, who spends a good deal of time in consultation with younger patients and their families, so they can make an informed decision on teen rhinoplasty.  Consultations thoroughly explore the patient's motivation for surgery and level of maturity.
Rhinoplasty recovery time
Recovery from rhinoplasty will vary greatly among patients, depending on the procedures and technique used. Analgesic medications may be prescribed to help diminish discomfort, but the majority of patients do not report significant pain after nose surgery. It is not unusual for patients to have temporary nasal packing, which along with normal post-op swelling, can make breathing difficult.
Nose job recovery can be uncomfortable, though great relief is felt once the nasal packing is removed a couple of days after the procedure. Most patients develop some bruising and swelling around the eyes. This typically disappears within 4-6 days after the surgery, though could last for up to two weeks. Cold compresses may help reduce the swelling, and keeping your head slightly elevated for the first few days after surgery can help speed the healing process. See more about rhinoplasty recovery here: http://www.aafprs.org/patient/procedures/rhinoplasty.html.
After one week most people are ready to return to work. At this time, residual swelling should be unnoticeable. The Mayo Clinic offers these tips to promote healing and minimize downtime after rhinoplasty:
Avoid blowing your nose
No strenuous activities for at least 3 weeks
Take baths instead of showers while bandages are still in place
Avoid extreme facial expressions
Wear clothing that fastens in the front
Use a high SPF sunscreen on your nose
Risks of nose surgery
All surgical procedures carry some degree of risk, and rhinoplasty is no exception. Common side effects such as bruising and swelling are normal and not cause for concern.
However, rhinoplasty has risk of more serious complications:
Anesthesia reactions
Infection
Bleeding
Numbness
Damage to the septum
Skin necrosis
Nasal blockage
Asymmetry
Skin contour irregularities
Scarring or poor wound healing
Unsatisfactory outcome
Choosing a knowledgeable plastic surgeon who excels in rhinoplasty can help minimize risk of complications and ensure the best result possible. To learn more about rhinoplasty risks, see here: http://www.webmd.com/beauty/nose-job/rhinoplasty.
Finding the best rhinoplasty surgeon in NYC
There have been great advances in rhinoplasty over the past decade, allowing surgeons to offer pleasing aesthetic results with little risk of scarring or complications. And while there are plenty of excellent candidates in practice, the truth is there is no single "best rhinoplasty surgeon" in Manhattan.
If you have questions about nose surgery or would like more information about primary or revision rhinoplasty with Dr. Thomas Loeb, please call 212.327.3700 to schedule a private consultation. For fly-in patients, Dr. Loeb's office also features Skype or Facetime consultations, which can be used in conjunction with computer renditions to help plan your rhinoplasty without extra travel to NYC.
More "nose job" articles from Dr. Thomas Loeb:
Additional Rhinoplasty Resources:
Related Rhinoplasty Articles:
Real Self, 23 Year Old L.A Girl and a Needed Rhinoplasty – Glendale, CA, http://www.realself.com/review/glendale-ca-23-year-la-girl-and-needed-rhinoplasty
Thought Catalogue, 7 Secrets You Need To Know About Recovering From A Nose Job, http://thoughtcatalog.com/eden-strong/2014/11/7-secrets-you-need-to-know-about-recovering-from-a-nose-job/